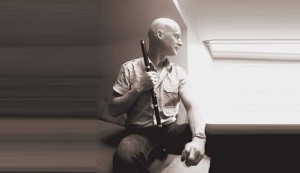 Des, a native of Achill Island, Co. Mayo, is widely regarded as one of the finest exponents of the tin whistle and flute in Ireland as well as an accomplished player of  the Scottish bagpipes.  Des has been successful at a competitive level achieving All Ireland awards for senior tin whistle and bagpipes.  He has performed with artists as diverse as Mundy, Damien Dempsey, Jack L, Pete Williams, Matt Molloy, Sister Sledge, Paul Brady, Mary Coughlan, Gerry O' Connor, James Kilbane, Steve Cooney, Lúnasa, Laoise Kelly and the St. Laurence O' Toole Pipe Band at Carnegie Hall.
As well as being a composer and performer Des is a much sought after session musician.  He has recently recorded and toured with Imelda May.  Des performed with Imelda on her Irish tour 2014, playing at Vicar St. and also Live At The Marquee, Cork.  He accompanied Imelda on the song, 'Tears of Clew Bay'. Imelda's harmonious attributes throughout the song, along with Des's haunting whistle melody captured the attention of the audience.  This was further enhanced by the surprise arrival of The Clew Bay Pipe Band to the stage during the ballad, who wowed the audience with the sway of their kilts and their melodic accompaniment to the song.  Des composed the pipe score and whistle melody to go with the song which was written by Al Gare (bassist in the band).
Des along with co-founder Peter Carney established The Clew Bay Pipe Band (Banna Píob Chuan Modh).  Des Cafferkey is the Pipe Major of Banna Píob Chuan Modh, which makes him the musical director, and senior instrumentalist.  Peter Carney is the Pipe Sergeant who coordinates the behind the scenes work and logistics for the group.
The official launch of the pipe band was on St Patrick's Day 2012.  The band next performed for such dignitaries like An Taoiseach Enda Kenny and Giovanni Trappattoni, Ireland's football manager, on their assent of Croagh Patrick.  Through a conversation Michael Ring, Minister for State had with John Delaney President of the FAI in front of the audience at Croagh Patrick that day, the band received an invitation, to perform both the German and Irish national anthems for a World Cup qualifier match at the Aviva, Ireland's national football stadium in Dublin to a crowd of 52,000, and a worldwide audience of over 74,000,000.
Shortly after that, an invite came from local Chieftain member Matt Molloy to perform alongside The Chieftains at the highly successful Westport Festival of Music and Performing Arts in June 2012.  The pipe band  performed at the Westport Festival of Music and Food 2013 where the extremely talented Irish singer/song writers Mundy and Damien Dempsey accompanied the band as guest singer. The band was also joined again by Matt Molloy.